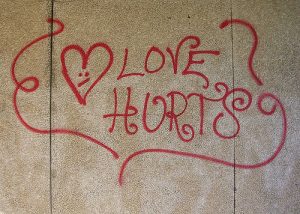 If you're looking for the top break up songs about love gone wrong, you've found them with this song list.

No matter what you want in a breaking up song, this compilation of songs about love gone astray is sure to have something for you.  It doesn't matter what mood you're in, what genre you prefer, how angry or hurt you are.  There is a heartbreak song here for you.
Of course, there are plenty of sad breakup songs about wallowing in your sorrows.  But this breaking up song list doesn't stop there.  Much of what you find here will inspire you to move on while reminding you that you aren't the only one experiencing the pain of a broken heart. If you're tired of feeling sad and you're looking for empowering, happy break up songs; I've got you covered with that too.
You'll find break up songs for girls and guys, young and old.  There's mad break up songs to help vent your frustration and positive break up songs to help you move on.  There's rock and country breakup songs, oldies, top 100, and R and B break up songs.
There are 50 to choose from, so you'll find the break up songs best for your situation.  What more could you ask for???
Breaking Up Song List
1. Since You've Been Gone… Kelly Clarkson (empowering break up song)
2. Misery … Maroon 5
3. Call Tyrone … Erykah Badu (mad breakup song)
4. Angel… Aerosmith
5. You Oughta Know … Alanis Morisette (a super mad breakup song)
6. Here Without You… 3 Doors Down
7. Don't Speak… No Doubt
8. If You Think You're Lonely Now… Bobby Womack (remade by Jodeci)
9. You Had Me… Joss Stone
10. Irreplaceable… Beyonce (empowering break up song)
11. Say Goodbye… Chris Brown
12. Emotional Roller Coaster… Vivian Green
13. If We Ever Loved at All… Faith Hill & Tim McGraw (country breakup song)
14. Where Do We Go From Here … Deborah Cox
15. Papers… Usher
16. Come Back to Me… Janet Jackson
17. Half Crazy … Musiq (sad love song for having a hard time moving on)
18. Over It… Katharine McPhee
19. What Goes Around Comes Around… Justin Timberlake (revenge/bitter breakup song)
20. Vanishing… Mariah Carey
21. Nothing Compares to You… Sinead O'Connor
22. A Song for Your Tears … Javier (a sad break up song when you're the one saying goodbye)
23. I'll Never Stop Loving You … Cher
24. Cry Me a River … Justin Timberlake (mad breakup song)
25. Too Late to Apologize … 3 Doors Down
26. Epiphany … Chrisette Michelle (breaking up song for when someone has hurt you)
27. Bruno Mars … When You're Lonely
28. Run to You … Whitney Houston (a song about wanting the ex)
29. The Best You Never Had … Leona Lewis
30. Seven Whole Days … Toni Braxton (sad breakup song)
31. Blame It On Me … Chrisette Michele
32. Better Than Me … Hinder
33. Don't Think About It … Darius Rucker (country break up song)
34. Ex Factor … Lauryn Hill
35. Nothing Left to Say… Mint Condition (90s R and B breakup song)
36. The Way That I Love You … Ashanti
37. You Lost Me… Christina Aguilera
38. A Little Bit Stronger… Sara Evans (breaking up song about healing)
39. Too Little Too Late… JoJo
40. Gives you hell … All American rejects (revenge/mad breakup song)
41. Trouble… Cold Play
42. Everything Back But You… Avril Lavigne
43. On My Own… Patti Labelle & Michael McDonald (breaking up song from the oldies)
44. Letoya … Torn
45. Leave the Pieces … The Wreckers
46. Falling… Alicia Keys (breaking up song about how hard it is to let go)
47. Tattoo … Jordin Sparks
48. Let it burn … Usher (breaking up song from guy to girl)
49. Cold … Crossfade
50. Good Riddance … Green Day